Jurassic World: Dominion Dominates Fandom Wikis - The Loop
Play Sound
Maps
If there are no maps posted, get a Provincial road map and Rural Municipality Maps or lot, concession and township maps for Ontario, Canada that show land ownership names and location designations for the purpose of locating where the office and field work is being done (See the local area map below). Note that the local area map is a fictional Western Canadian Rural Municipality Map showing ownership names but I have not shown range and section numbers. If working in Canada, see the Wikipedia articles on the Dominion Land Survey, concession roads, farm lot numbering and townships.
Find out the locations and names of the land owners of land that is used for growing the adapting populations of maize, the isolated crossing block fields, maize yield trials and possibly also seed production fields. The parcels of land are often referred to by the land owner's name but you may also need to know range and section numbers if you are in Western Canada or concession and lot numbers if you are in Ontario. (You might also try Google maps and Yahoo maps as sources). You may have to go to one of these sites or you may have to send someone else to one of these sites so you should know where they are and how to get to them.
There will be one site of about 30-40 acres that I will refer to as the MAIN SITE. The Main Site picture below is an aerial view of what the MAIN SITE might look like. The figure isn't completely accurate but it will give one an idea. The MAIN SITE will be used to grow the many Nurseries and be one of the locations for maize yield trials. There may or may not be a building with an office on this site. This might be owned, leased or rented land. If there is no building on the main site, the office might be in a building in a nearby town or even in someone's house. Usually, the office, seedroom (where the seed is stored) and workroom have been in the same building. Some of the office work could be done off site in a distributed processing or cottage industry way but at certain times of the year it 's vital for the office/data personnel to be onsite to deal with problems, make corrections and see with their own eyes what is being done. I 'm assuming in this material that the office is in the same building as the workroom and seedroom. Working out a distributed processing method with coworkers all over the world will be left for the future.
Local Area Map
Mainsite (Figure or photograph)
Office
The office work was done mainly with a computer and printer. One could do the work with pen and paper for a small project but there are a lot of benefits in using a computer. There are probably lots of ways to improve the methodology that was used and it may very well be true that the methods used were a computer version of the manual method that didn't put the computer's abilities to full use.
Two floor plans are shown below with a main office where the computer work was done. The first floor plan (Office Layout 1) with two floors, is of an almost ideal floor plan while the second floor plan (Office Layout 2) is a compromise made due to budgetary restrictions.
Office Layout 1 (Figure)
Office Layout 2 (Figure)

The office should be well lit and there should be lots of shelves, cupboards and counter space. I haven't shown the shelves and cupboards on my floor plans. The shelves would hold books, journals, and field books. The cupboards would hold supplies and small office equipment. The counters would be used to put pages of paper on while reports are being prepared or for the breeder to view reports. In the second floor plan (Office Layout 2), people were often moving back and forth through the office space from the workroom to the seedroom or from the workroom to the table where they were working nearby. Both of these activities can be distracting to someone working on the computer.
Office Equipment and Supplies
A list of the office equipment and supplies as used from Jan. 1995 - Jan. 2000 is given in a later section of the wiki with one or two suggestions for future acquisitions. I used a banana box for a file cabinet and my corner desk was two wooden sliding closet doors propped up with short 2 x 4 pieces of wood for legs.
The methodology employed to produce the products of the post was severely restricted by the available computer hardware and software that was about a decade obsolete. It was originally adopted as an inexpensive off-the-shelf emergency compromise that was able to get the job done.It isn't efficient or robust. It works o.k. for blocks of around 1500 rows but would be unable to efficiently handle blocks of 50,000 rows.
Efforts to upgrade to current computer hardware and software created new problems that were not solved by Jan. 2000. However, decreased emphasis occurred regarding the use of the very same processes that had become a problem to upgrade, so the problems were not highly visible.
1995 Computer Equipment and Software
Radio Shack 80286 cpu computer
DOS
several hundred (?) megabyte hard drive
3.5 inch floppy drive
5.25 inch floppy drive
Dot Matrix printer
VP-PLANNER
DBASE III (?)
WORDPERFECT 5.1
MSTAT
other software
There were no problems with processing speed or available harddrive memory. The Operating System (OS)and Application software were not very user friendly or integrated.
1996 Computer Equipment and Software
IBM Compatible 8088 cpu computer
DOS
25 MB hard drive
5.25 in. floppy drives
Dot Matrix printer
VP-PLANNER spreadsheet/database
WORDPERFECT 5.1 and 6
MSTAT
The Operating System(OS) and Application software were not user friendly, WORDPERFECT 6 was extremely slow, data entry with macros in VP-PLANNER was unable to keep up with hunt and peck data entry.
1997 Computer Equipment and Software
Pentium (R) cpu computer
MS-Windows 95 OS
1 GB hard drive
3.25 inch floppy drive,
CD ROM drive
Inkjet printer
MS-WORKS
EXCEL
VP-PLANNER in DOS mode
other software
The VP-PLANNER macros with relative referencing wouldn't work in EXCEL but other VP-PLANNER macros would.
Critical remarks regarding the methodology will be placed in a separate section.
Workroom
This is where all of the work with the seed is done. It should be well lit and have good ventilation. It should have a long counter along two or more walls and two large tables (6 ft. x 12 ft.). The counter should be something like 2-3 ft. wide as it should hold a seed tray and allow one to work with a seedlist on an 8.5 in. x 11 in. page that is folded out to 22" long on a continuous printout. The counter should be at a height that is comfortable to work at while seated on a stool or standing up. The tables can be improvised from heavy plywood sheeting and sawhorses if necessary. The main thing is that a table should be sturdy, level and not fall down when many trays of seed are placed on it in the spring. Two tables are mentioned as they can be placed end to end to make one long table.
The work area is also where the shelling of dried seed is done in the fall and the envelopes, pails, and bags are marked and filled with seed.
A list of equipment and supplies for the workroom is listed in the equipment list.
Drying Cupboard
The seed needs to be dried before shelling. Properly dried cobs of corn sound like wooden chimes when handled.
All of the drying was done using a cupboard constructed from plywood, two-by-fours, fencing wire, and an old electric furnace and blower.
The cupboard had shelves of gridded fencing wire to hold the bags of cobs. Warm air entered the cupboard at the top and was vented out at the bottom of the cupboard.
The Drying Cupboard might be at a different location than the workroom.
Information on the details of the construction of the drying cupboard will be put into a later reference section together with any illustrations or photographs.
Seed Room
INSERT A PICTURE OF THE SEEDROOM HERE
All of the shelled seed is kept in the seed room. This room should be cool but it should never reach 0 C or get too hot such as more than room temperature of 20 C.The seed only needs to last for at most two or three years.
The room should be protected from mice or rats or insects preferably by having no entry for such pests. If possible, air conditioning in the summer is a good idea.
The Inbreds are kept in large cardboard trays labeled from 1 to n on slatted shelves and also showing the Inbred source row#'s in each box. E.g. Box 1, Rows 1 to 225. Inside each large cardboard box are 10 or 11 small white cardboard trays each containing around 20 labelled #2 envelopes containing the inbred seed. :Bulks of Pure lines may be in #6 envelopes or pails elsewhere in the room.
INSERT PICTURE HERE
The SIB Nursery material is in large cardboard trays in labelled #6 envelopes (usually two envelopes per block of material). One could also use paper bags.
INSERT PICTURE HERE
The Populations of corn are stored in labelled plastic pails with covers, on the floor beneath the shelves.
INSERT PICTURE HERE
The beans from the Bean Nursery are stored similarly to the Inbreeding Nursery Corn but in #6 envelopes. The bulks of seed from Observation rows may be in small to medium sized mesh bags containing a tag, in medium sized labelled cardboard boxes. Large bulks may be in plastic burlap type bags on the floor with an attached tag on a top corner and two tags in the bag.
INSERT PICTURE HERE
The cereal headrow seed is stored similarly to the Inbreeding Nursery corn in #2 envelopes. The seed from observation rows and germplasm bulks are in small mesh bags similarly to the bean observation row bulks or possibly envelopes similarly to the SIB Nursery corn. One or two varieties of cereals may be in plastic burlap type bags.
INSERT PICTURE HERE
The shelves were made from two by fours and slats of about 1in. x 2 in. with the first slatted shelf about 1.5 feet off the floor and the second shelf about a foot above the first. It's best if the large trays are not piled on top of each other but there is just one tray beside the next tray.
INSERT PICTURES HERE
One could make drawers but it is better to take the entire cardboard tray out in the spring when obtaining seed than just taking out one packet of seed at a time.
[Ed. Pictures/illustrations and further details regarding the seedroom might be placed in a reference section. Be sure to see the pictures of the CIMMYT Germplasm Storage Room.
"The maize bank contains 28,000 samples of seed, including the world's largest collection of maize landraces – varieties developed by farmers over decades, centuries or even millennia – along with samples of maize's wild relatives, teosinte and tripsacum, and of improved varieties."
☀http://www.cimmyt.org/germplasm-bank/
CIMMYT's Germplasm Bank pictures on FLICKR
Storage Shed(s)
A small shed is needed to store leftover chemicals such as herbicides and fungicides. This shed should be well ventilated and not connected to any other building.
Another shed may be needed for the drying cupboard, winnowing fan, thresher and to store the bags of harvested materials.
Protect the harvested material from rodents.
Laboratory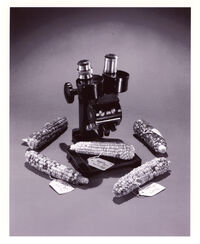 Generic Seeds is outsourcing all laboratory work. The laboratory performs many tests on Generic Seeds germplasm and is also the center of most of the modern research.
Bioinformatic tests might include things like determination of soil and plant tissue nutrients, molecular marker assisted selection work, or DNA identity tests.
Research could occur in the lab involving doubled haploids, sequencing of nuclear and mitochondrial DNA, recombinant DNA, tissue culturing, photoperiodism, senescence, chloroplasts, assimilate partitioning or anything else one wants to learn about plants.
Check out Labster's virtual lab. I would like to have something similar available in a simulation for high school students.
Amrita Vishwa Vidyapeetham Virtual Laboratories [1]
Mission Biotech - 3D Biotechnology Learning Game | Virtual Heroes
Virtual Heroes ®
Closing the circle: Kanwarpal Dhugga works at CIMMYT
http://www.cimmyt.org/closing-the-circle-kanwarpal-dhugga-works-at-cimmyt/
CIMMYT Photo Album
DNA Extraction

Weed to Wonder: Educational Outreach Interactive Tutorial [3]
Maize Genome Sequencing Project
Laboratory Operations
'Laboratory Operations – 412 ' Certificate III in Laboratory Skills, Certificate IV in Laboratory Techniques, Diploma of Lab Technology
Diploma of Laboratory Technology – 508
Diploma of Laboratory Technology
Laboratory Management – 509
Advanced Diploma of Laboratory Operations
Horticulture – 304
Certificate II in Horticulture
Some of the Toolboxes can be previewed

SimuLab Testing Laboratory (Virtual Workplace) Be sure to check out the competencies listed for each Toolbox.
==== Growth Chamber ====
more to come
Greenhouse/Hothouse