WARNING
Autotransformers such as Variac provide no galvanic isolation, so if this circuit is plugged into a wall outlet as is implied, all parts of the circuit are effectively part of the mains electric wiring, and as such represent a significant risk of electrocution. Galvanic isolation and appropriate grounding of exposed parts are legal requirements in most of the world for good reason and circuits which expose the user to mains electricity are illegal in these places. Use extreme caution with this circuit, do not use it if unsure, or preferably use a different circuit which includes galvanic isolation through a power transformer and appropriate grounding (such as including the circuit in a grounded metal enclosure). An autotransformer can be used with care on the front end of such a circuit, where it will be considered in its entirety from input to be output to be part of the mains wiring, but with an adjustable output voltage.

With a minimum amount of components you can easily make a variac into a high current power supply with a wide output voltage range
This power supply will not offer common features that most power supplies have. Here is a list:
No voltage regulation

Although it will keep a fairly constant voltage in most circumstances, there is no line or load voltage regulation.

No current limiting / short circuit protection

High currents from the low impedance mains electrics can pass through anything which is across the output or any part of this circuit, this includes the user

No galvanic isolation

THE CIRCUIT SHOWN HERE IS DANGEROUS AND SHOULD NOT BE USED WITH A LOW IMPEDANCE AC SOURCE SUCH AS MAINS (WALL) ELECTRICS WITHOUT THE ADDITION OF GALVANIC ISOLATION AND APPROPRIATE SAFETY GROUNDING.

Negative port is not grounded

It would be dangerous and illegal to ground this port if the circuit is powered by mains electricity without including galvanic isolation, however once isolation is added, grounding is optional, depending on the output voltage. (Necessary for any voltages over 60V)
Components
Variac Autotransformer
Full bridge rectifier
Heat sink
Large capacitor
Resistor (optional)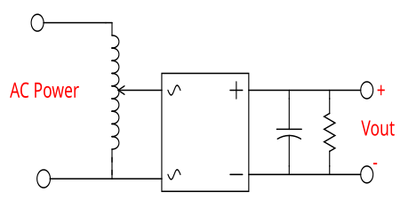 Community content is available under
CC-BY-SA
unless otherwise noted.